Assembly of high and low volume production
Versatility & high-quality
FEMOMATIK is adept in all assembly tasks - from single parts to high volume production. Long experience and declared know-how ensure efficient assembly processes for parts and modules of any size. With our modern equipment, we are able to manually assembly low volume productions and also to provide fully automatized processes for high volume productions. Challenge us and we will convince you of our competence!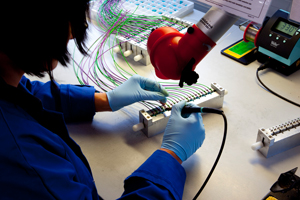 FEMOMATIK is specialised in the assembly of mechatronic modules and finished products. Mechanical, electro mechanic, and electronic components of any kind are customer-specifically assembled, and thoroughly examined for functionality. On demand, for low volume production, FEMOMATIK manufactures and integrates complete cable harnesses with your product.



As a service provider, we are assembling modules and complex finished products according to the specifications of our customers - efficiently, fast and in due time. Integrated end-of-line tests and a certified quality management system constantly ensure a high level of quality.